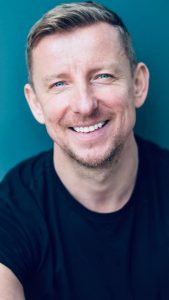 Hello,
My name is Rad Kaim.( Anand Sangat). I love Yoga, I love people and I love life. I'm a certified Senior Hatha Yoga teacher and KRI-certified Level 2 Teacher of Kundalini Yoga. I am on my Tantra path fascinated with the technology of Kundalini Yoga, interested in coaching, energy healing and meditation. I am here on a mission to get more men on the yoga mats.
My style of teaching comes from an array of influences, teachings and traditions, as I had the pleasure of training in many different styles, including Ashtanga, Iyengar and Vinyasa Flows. Over the years I have studied with many great teachers - Noah Maze, Bridget Woods-Kramer, Sianna Sherman, Elena Brower, Tara Judelle, Claire Murphy. They all had one thing in common "ANUSARA YOGA". This style made a powerful impact on my teachings and I consider this period as a "Life Affirming" time of transformation.
My passion is to inspire and empower men on their personal life journey, to unable them to recognise their own definition of happiness, integrity and power. I know how much Yoga has influenced and changed my life and I am here to inspire you to give it a GO! I love my students. I love seeing smiles arriving on their faces when they do Yoga.
Last few years I've tailored the different practices of yoga to my individual style of teaching - yoga4men and I have dedicated myself to bring the practices of yoga, meditation and well-being to the male community. My prime interest is to inspire and empower men on their personal life journeys and to enable them to recognise their own definition of happiness, integrity and power.
Why did I end up teaching YOGA?
1. The uplifting Yogic philosophy gave me some essential answers to all the biggest questions I have had throughout my life. Digging into yoga philosophy over the past few years has exposed me to a very different way of seeing the world around me.
2. The principles of Alignment really work!
This is a highly therapeutic and deeply healing way of aligning your body that you can practice everywhere - on the tube, driving your Vespa, sitting at work or swimming.
3. I have met some really cool people who share the same interests and are dedicated to seeing the world as a happy place.
YOGA offers a lot of promise - it enables you to connect with the very essence of your being - it's like the biggest promise you can have.....it opens your heart...
I still remember the first class. When I left the gym I had this immediate recognition that this is my salvation. I didn't understand why, all I knew was that I have to keep going back to the class. Before I knew it I was practising yoga every day. I just kept coming back to get more and more. And then I started to realise that this practice is giving me something, it's giving me the possibility to be happy. It became my anchor and it grounded me.
I feel that the spiritual awakening I went through created the space for me to become a yoga teacher. I'd been practising yoga for six years when I decided to become a yoga teacher. At the time I was also studying energy healing, massage, I was looking into many alternative ways to understand the path of wellbeing, so it all evolved quite organically.
For me the essence of being a teacher is all about inspiring people and creating a supporting structure to bring out the best out in people without telling them what to do.
When I first started practising yoga I noticed that I would usually see a few men in a class of 20 women so I made it my mission to make yoga more accessible to the male community. I'm dedicated to inspiring men to practice yoga and to receive the benefits of this practice. In general there is a preconception that yoga is something that only women do which is actually not true.
There are so many male students I've met during my time as a teacher whose lives have transformed through the practice of yoga and that keeps me going and inspires me to continue. The physical practice is only a portal for a much more profound, deeper conversation, so it's not the physical practice. Once you start going deeper in what yoga is there is infinite possibility waiting for you.
As a teacher I'm still learning and it's a never ending journey, because as I grow myself I become even more compassionate and more understanding, more loving, more patient. This is part of my practice. The other part of my practice involves meditating every day for half an hour in the morning and 15 minutes in the evening. I always find at least half an hour during the day where I do my physical practice which is my asana practice in which I open my body. I do that in my apartment. It's something I like to give to myself. It keeps me in the place where I can offer something to others. For me this is very important because when I was learning how to be a yoga teacher, I realised that I have to master my own reality, I have to learn how to be at peace with myself and happy with who I am before I can start teaching it to others. Whether it's as a yoga teacher or a life coach I want to help people to be their highest self, I want to harmonise people's lives and bring them back in to balance. Not being in alignment can cause a lot of tension and suffering, but once we are in alignment we can activate the highest potential of what we can be in this lifetime.